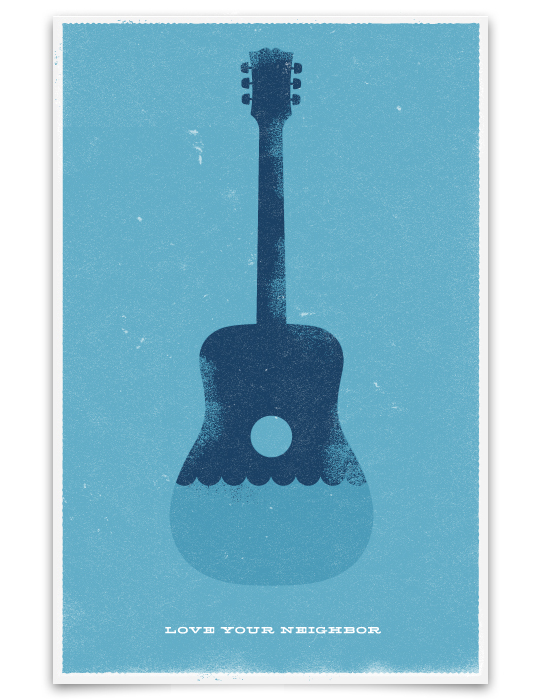 Quick poster design this morning for a benefit concert in Nashville.
[UPDATE]
Thanks to everyone who has commented or emailed. Originally I created this for a friend who was helping to promote a church benefit concert…but honestly I would love to for the art to be used to do as much good as possible, for as many people as possible. So let me look into it to see how we can do that. I will let you know.
[SECOND UPDATE – 5/10/10]
Okay! Again, thanks to everyone who has commented or emailed about this poster. Here's what I'm going to do. I'd like to donate this art to help with flood relief in the broadest possible way. So instead of printing these myself, or working exclusively with one organization, what I'm going to do is give the art to anyone who wants to use it to raise money. You can create prints, stickers, t-shirts…anything and everything that you think will help.
The only thing that I would ask is that 100% of all proceeds to any of the following charities:
The Community Foundation of Middle Tennesee
Hands On Nashville
Nashville Red Cross
2nd Harvest Food Bank of Middle Tennessee
Samaritan's Purse
ALL OF THE ART FILES CAN BE DOWNLOADED HERE.
I've added some new designs that incorporate the "We Are Nashville" slogan, and some t-shirt designs as well. Originally the design was created to promote a concert. I hope they still use it. I hope Cool People Care create shirts and stickers and sell them on their site. I would love it if Hatch Show Print created some one-of-a-kind posters! If you have a print shop, make posters. If you can make t-shirts, make t-shirts. Feel free to use the art however you want. Feel free to improve it or create different variations…it's up to you. Just make sure all proceeds to go the charities above.
Nashville is home to some amazingly creative artists. My hope is that my art does the most good for the most people. I can't wait to see what you do with it.
We Are Nashville,
Ty